This is a first draft for an AccUnit TestRunner.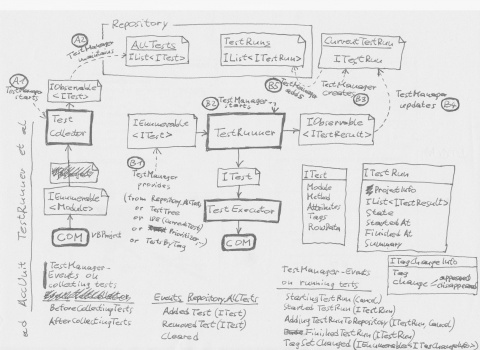 Details
(Gathered mainly as results of the discussion between Josef and Paul on Jan 13th, 2012)
TO BE ORDERED AND REVIEWED
Reponsibilites and Input/Output
TestManager

Responsibility: Orchestrates the parts described below
Responsibilites in particular:

A2: listening to TestCollector and maintaing the list of test related info in the repository
B0: instantiates the TestRunner for each new test run
B1: providing a list of tests to be run by the TestRunner

some sources: all tests from the repository, selection from a test tree, test according to the current selection of the IDE, a prioritizer component, selection by tags, ...)

B3: creating an instance for the current TestRun (actually before starting)
B2: starting the TestRunner (as reaction to some user action)
B4: listening to the outputs of the TestRunner and maintaining the current TestRun object
B5: adding the current TestRun object to the list of test runs in the repository

TO BE CLARIFIED: Should this work as a facade?
Events:

BeforeCollectingTests (maybe better: BeforeScanningProject? - there are also the test-related modules)
AfterCollectingTests (maybe better: AfterScanningProject? - reasoning as above)
AddedTestRunToRepository(ITestRun)
TestCollector

Responsibility: Collects the relevant information for running tests. (rephrased: In order to run a test, no one has to go back to the VBProject to look up something)
Input: Events from a component in VbeProjectManagement or just a list of all modules in the VBProject
Output: IObservable<ITest>/Events

FoundTestMethod(ITest)
LostTestMethod(ITest)
FoundTestRelatedMethod(IAttributedMethod)
LostTestRelatedMethod(IAttributedMethod)

maybe better name: ProjectScanner

there are not just the test classes itself, but also the test-related modules

TestManager listens to the output and maintains the list of all test related info in the repository
Repository.AllTests

Responsibility: Represents the current structure of the VBProject with respect to tests
Flat list (no fixture-tests hierarchy), hierarchies must be derived by UI components
Input: Method calls by the TestManager
Output: Enumeration/IObservable<ITest>/Events:

AddedTest(ITest)
RemovedTest(ITest)
Cleared
Repository.TestRelated (NOT IN THE DRAWING)

Responsibility: Represents all modules in the VBProject that are just test-related, but not actually test fixtures.
global info needed by the TestRunner
Input: method calls by the TestManager in reaction to events from TestCollector
Output: none
The TestManager instantiates the TestRunner for each run with this information
TestRunner

Responsibility: Coordinates the calls to the methods of the test suite (tests and tag hook handler)
Note: Its the TestExecutor that actually invokes the methods via COM, not the TestRunner!
Input:

List of tests (subset of test in Repository.AllTests)
List of test related modules (Repository.TestRelated)

Output: IObservable<ITestResult>/Events

StartingTestRun(bool cancel)
StartedTestRun(ITestRun)
TagSetChanged(IEnumerable<ITagChangeInfo>)
FinishedTestRun(ITestRun)
ITestRun steadiliy populated during the test run

The calling of tag hook handlers (see below) is also managed by the TestRunner
TestExecutor

Responsibility: Is able to instantiate classes and invoke methods and understands exceptions from failed assertions

Input:

name of the class to instantiate/terminate
name of the method to execute (along with parameters in the case of a call for a row test)
Don't use ITest to pass the input parameters.

That's too much (attributes not needed generally, rowdata needed without name of the row or ignored state)
DIFFERENT FROM THE DRAWING

Output:

True: method call succeeded
False: an assertion failed (assertion message is provided to the TestRunner)
Non-Assert exceptions are passed to the TestRunner as is

Future extension point: special handling for exceptions
Conceptual
No support of FixtureSetup/FixtureTeardown

Seldom used, and when, then often misused (violating independency of tests)
More global setup/cleanup (as setting up backend for test) via tag-hooks
Tags applied on module level inherit to all children (test methods and rows in row tests)
Support for tag hierarchies?

path notation: e.g. DatabaseTests/ADO/Oracle
No guarantee how often a test class will be instantiated during a test run

discourage to use class scope (Initialize/Terminate and Fields)
Tag Hooks

Every time a tag appears during a test run, a setup tag-hook is called (if available)
Every time a tag vanishes during a test run, a teardown tag-hook is called (if available)
Tag hook handler

reside in class modules annotated with AccUnit:TestRelated
are tagged with AccUnit:Setup("MyTag"), and AccUnit:Teardown("MyTag"), resp.
Test related modules (AccUnit:TestRelated) can be standard modules or class modules

Test related modules with tag hooks (AccUnit:Setup("MyTag"), AccUnit:Teardown("MyTag")) must reside in class modules

This helps to avoid global state enduring over the end of a test run (still could be done by copy state to fields in standard module)
Technical
New assembly AccUnit.Framework

No References to COM (SimplyVbUnit/Access/TLI)
No IFixture

By now, no relevant information besides the name
The name of the fixture is a property of ITest
AccUnit:Rollback and AccUnit:ClickingMsgBox implemented as kind of plugins to the structure
Data structures
IAttributedMethod

modulename
methodname
attributes
ITest

fixturename
methodname
attributes
tags (specialized subset of attributes)
rowdata (specialized subset of attributes)
ITestRun

ProjectInfo (Name of the file, version info?, ...)
List<ITestResult>
State (prepared, running, finished, canceled, aborted)
StartedAt
EndedAt
Summary
ITagChangeInfo

Tag (string)
Change (appeared/disappeared)
ITestResult

ITest
Status (success, failed, error, ignored) ... error = runtime error; failed = error by asserts
Message (??? rowtest: summary or null ?)
Rowdata (testresults of rows ... message + status of rows?)
StartedAt
EndedAt
Open issues
Test Reactive Extensions in a VBE AddIn